The Beginning (Trattoria I Ricchi in Florence)
i Ricchi began as a family home and general store in the village of Cercina, located in Florence, Italy. Umberto Consigli, after building his home and store, added a few dining tables in the back, and his wife Ceaserina would cook for customers. Consigli's daughter Irma married Biagio Ricchi and successfully grew the business into a trattoria, eventually involving their son, Francesco.
Christianne in Tuscany
Christianne Ricchi discovers authentic Italian food while studying art in Florence. She meets the Ricchi family at their trattoria in Cercina. She marries Francesco Ricchi, learns the art of country rustic Italian cooking, and together they manage the restaurant for 17 years.
Construction of DC Restaurant: i Ricchi Opens in Dupont Circle
Christianne and Francesco return to the US, bringing Tuscan cuisine to Washington DC by opening Ristorante i Ricchi. The restaurant receives great reviews including Best New Restaurant in America by Esquire Magazine. i Ricchi maintains Tuscan traditions by cooking with a wood-burning hearth and using fresh ingredients. The hearty pastas, creamy risottos, smoky grills and tempting sweets are all expertly prepared from original family recipes.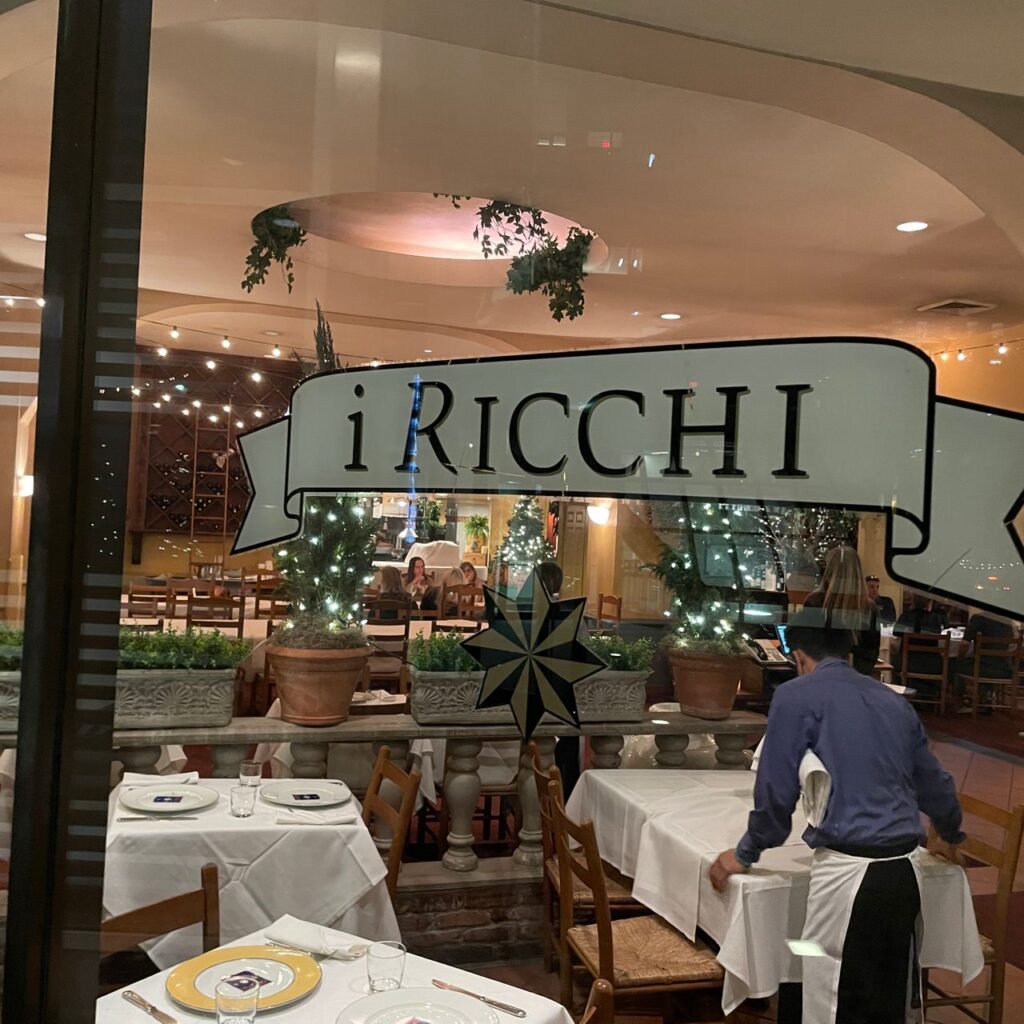 Top 25 Restaurant
Ristorante i Ricchi is named one of the Top 25 Restaurants in America by Food & Wine Magazine and sets off 2 decades of Best Restaurant awards and recognition for being one of the first and very few restaurants in America to offer truly authentic Italian cuisine. The restaurant gains a loyal following and strong reputation in the DC area, attracting George H. W. and Barbara Bush, Bill and Hillary Clinton, George W and Laura Bush and many other politicians and celebrities.
Fabulously Florentine – i Ricchi is a monument to simplicity, purity and quality.
-Robert Schoffner, The Washingtonian
National Restaurant Association: Restaurant & Italian Culture Recognition
Christianne is elected as director of the National Restaurant Association and becomes an ambassador of the restaurant industry. She goes on to receive awards such as "Piero Bargellini Award of Excellence" given by the city of Florence for revitalization and advancement of Italian culture in the United States, "Hospitality Ambassador of Washington DC" and many others.
Lobbying in Front of Congress: Representing Restaurants in DC
After 9/11, restaurant business in DC had declined 60%. In response, Christianne helped initiate the launch of DC Restaurant Week to bring people back into restaurants. As the entire industry struggled to recover in late 2001 and beyond, she was called upon several times to lobby in front of Congress, representing the interests of restaurant owners and educating politicians on the issues of the industry.
On NBC4: Authentic Tuscan Cuisine Live
Ristorante i Ricchi cuisine gains a national reputation through the Today Show, NBC and other coverage. Through these outlets, Christianne brings fresh Tuscan cooking to viewers by sharing recipes and featuring celebrity chefs living and cooking in Italy.
Women's Club: i Ricchi Events
Christianne launches a Women's Club, Pop-up Cocktail Parties, and many other events and activities for people to come, relax, mingle and meet others.
REAL Certification
i Ricchi earns REAL Certification as part of the Eat REAL program. For more information on i Ricchi's commitment to Tuscan cooking with fresh, local and seasonal ingredients and the Eat Real Program. We hope you can come in for a true Tuscan experience – we would love to meet you.
Relaunch
We continued to create and host more events that built community – such as our Friday Squeezes. As we prepared for our 30th anniversary in 2019, we embraced our roots and launched a new comfort menu. Join our VIP or Women's Clubs on the home page to get our weekly newsletter and enjoy stories and fun facts about our more than 30 years in the DC restaurant scene.
Covid-19 Pandemic
Covid-19 hit the restaurant industry hard. But our team has remained dedicated to giving you the best and safest service possible. We have adapted to the challenges that this year has brought and continue to do so in order to provide you an authentic Tuscan experience, even in the face of uncertainty. We introduced our award winning i Ricchi Food Club which brings thoughtfully curated four course meals to your home weekly and adapted our Piazza to accommodate outdoor dining in any season. We diligently followed the city's guidelines and protocols and remained hopeful for better days to come.